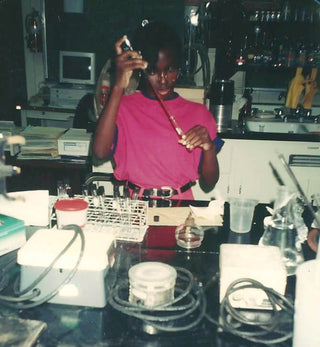 NUEKIE
(PRONOUNCED:
"NU-WHE-KEY")
Is the brainchild and middle name of our founder and Chief Chemist, Eunice N. Cofie. It means, "first daughter in the family and hardworking one," and Eunice chose this name for the brand because of how hard our products work to promote healthy, youthful looking skin. Crafted specifically for people of color, our innovative brand of health and beauty products are scientifically formulated with a unique combination of traditional African medicine and cutting edge science.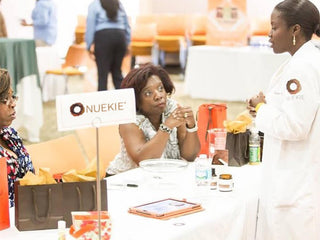 Mentored by a professor in cosmetic science, Eunice had the epiphany that beauty could be the pathway to bridge the gap between her two worlds, and bring about healing in more ways than one. Nuekie was developed after ten long years of product research and development. We seek to fill the overwhelming need for products on the market that cater to people of color and solve their distinct skin-related problems. Formulated with a dedicated scientific approach, our Moisture Therapy Crème moisturizes the skin, increases elasticity, and reduces wrinkles. The Pre-Cleanser Deep Cleansing Oil is powerful enough to remove dirt and other impurities from the skin, yet still gentle enough for daily use.
The word Nuekie is our founder's middle name and it means, "first daughter in the family and hardworking one." Eunice chose this name for the brand because our products work hard to promote healthy, youthful looking skin.
We invite you to treat your skin to the quality care it deserves by learning more about our products. Be sure to sign up for our newsletter to stay in touch and in the know about all the wonderful things to come as Nuekie embarks on its journey toward becoming the leading health and beauty company that offers solutions to problems of people of color! If you have specific questions about your personal skin care regimen, feel free to send us an e-mail.

We are the global leader in health and beauty for people of color.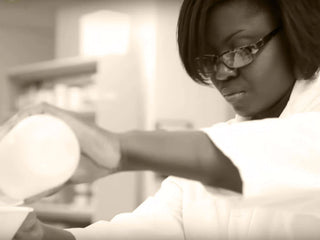 Our Founder
Eunice Cofie-Obeng is making great strides in the cosmetic and pharmaceutical industries. She is the President and Chief Cosmetic Chemist of Nuekie - an innovative health and beauty company for people of color. Eunice is a graduate of Florida Agricultural and Mechanical University (FAMU) with a Bachelor of Science degree in chemistry/molecular biology, University of Cincinnati James L. Winkle College of Pharmacy with a Master of Science in Pharmaceutical Sciences with an emphasis in Cosmetic Science and has completed the Harvard Kennedy School of Government Global Leadership and Public Policy Executive Education program.
Her deep commitment to social causes worldwide has led her to make a positive impact across the globe, specifically in Ghana and the Philippines. While in college, Eunice spent her summers working in a village community in Ghana, West Africa implementing the Save a Million Lives HIV/AIDS Education and Prevention Program. As the former Miss Black Florida USA, she spent a year promoting her platform Preventing Childhood Obesity and Diabetes through Education and Life Transforming Habits. She was able to contribute greatly to her community by inspiring young people to live healthy lifestyles.

Eunice was honored by the World Economic Forum as a Young Global Leader in 2012 for her professional accomplishments and commitment to society, as well as her potential to contribute to shaping the future of the world by providing inspiring leadership. Forbes named Eunice as one of the 20 Youngest Power Women in Africa. She is featured in the 2012 Tallahassee Community College Cherry Alexander African-American Calendar.

She was also awarded the 2012 Golden A.C.E. Award in Science and Technology. The Florida Commission on the Status of Women recognized Eunice with the prestigious 2011 Florida Achievement Award for her commitment to improving the lives of women and families in her community. In 2008, Eunice was named by the Tallahassee Democrat newspaper as one of the "25 Women You Need to Know in Tallahassee".
Eunice has been featured in noteworthy publications such as the Scientific American, Florida Trend Magazine, Tallahassee Magazine, South Florida Times, South Florida Gazette, The Florida Courier and Onyx Magazine and she has also appeared on CBS and ABC affiliates, and Ghana Television.